Elaine de Kooning House
East Hampton, New York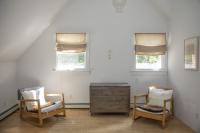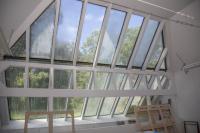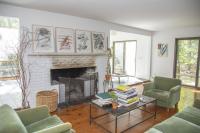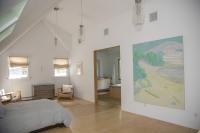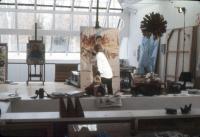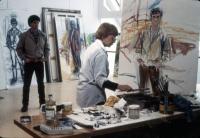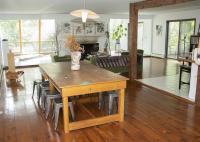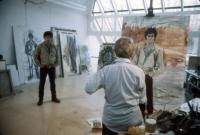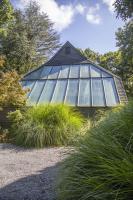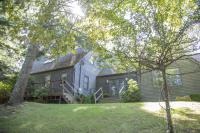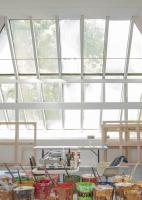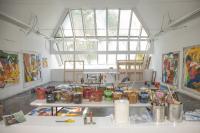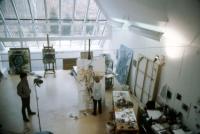 Elaine de Kooning House Photos
Click "+" to enlarge, click arrows to scroll.
Introduction
In 1975, when artist Elaine de Kooning was reconciling with her husband, Willem, she purchased a traditional saltbox house on Alewive Brook Road in East Hampton, N.Y. Elaine later added the studio where she created her final series of paintings, Bacchus (1976-1983) and Cave Paintings (1983-1988). During this time she also made portraits of her sister, Brazilian soccer player Pelé and art dealer Aladar Marberger. Her work had been featured in the Museum of Modern Art-organized Young American Painters (1956-58).
She continued to make portraits during a formative period of American postwar art when arguably, for the first time, the most radical new painting was happening in New York. Back then, the thought of an Abstract Expressionist concurrently adhering to a traditional genre was considered by many taboo and the paintings themselves retrograde. Today, her studio practice seems prophetic: Many artists are able to create divergent bodies of work without the constraints of dogma or critical mandate. After de Kooning's death in 1989, the sculptor John Chamberlain purchased the house, followed by painter Richmond Burton.
Each artist made changes and modifications to its design. In order to capture the light at a specific time of day, de Kooning would often work in the sunroom. Chamberlain used the ground floor studio as a darkroom and for archival purposes. The main studio has 18-foot ceilings with angled skylights, a private entrance and is connected to the house. The space seems animated with stories about renowned artists from previous generations. Elaine's well-documented generosity toward other painters, curators and writers was legendary.
Since 2011, the Elaine de Kooning House has hosted exhibitions and informal artist residencies with the artists Laurie Anderson, Charles Andresen, Aaron Aujla, Frank Benson, Katherine Bernhardt, Lizzi Bougatsos, Joe Bradley, Jessie Dunahoo, Chris Duncan, Jonah Freeman and Justin Lowe, Mike Goodlett, Eric Haze, Lonnie Holley, Sedrick Huckaby, Kim "Mudman" Jones, Susan Te Kahurangi King, Laura and Rachel Lancaster, Sadie Laska, Jose Lerma, Liz Markus, Adam Marnie, Keith Mayerson, Katherine McMahon, Scott and Tyson Reeder, John Riepenhoff, Kambel Smith, Celeste Dupuy-Spencer, M. Louise Stanley, Jerry "The Marble Faun" Torre, Michael Williams, and Anke Weyer.
The Elaine de Kooning House and Studio has been placed on the National Register of Historic Places in 2022 by the United States Department of the Interior.
Hours
By appointment
Visit the website for reservations: elainedekooninghouse.org/contact
Restroom
No
Contact
contact@elainedekooninghouse.org
631-604-5882